Virtual IL Maintenance Storeroom/ Materials Management - 3 Day Course
This interactive virtual instructor-led three-day course is designed to help foster a partnership between the
Maintenance and Storeroom or Materials Management
professionals by establishing common goals and objectives for driving improved equipment reliability through efficient management of spare parts, information, and materials. In contrast with finding the "hidden plant" with respect to capacity through improved equipment reliability practices, the Storeroom or Materials Management area is the "hidden investment" where millions of dollars spare parts and consumables are stored, often without the benefit of the industry-recognized "Best Practices" for improved efficiency.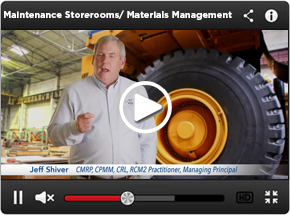 Who should attend:
Organizational personnel who are accountable for implementing proactive change, to include plant managers, maintenance managers and supervisors, operations managers and supervisors, and materials and storeroom managers.
---
As your Maintenance task strategy changes, so must your MRO
So you have invested in training but not still where you want to be with MRO? Consider our other services relative to MRO Storerooms and Materials Management. We offer assessments, gap analysis, strategic improvement planning, and coaching for better MRO efficiency and reduced costs. Contact us for more.
---
---
Share this Product